You want to have the Litecoin-Qt client on another computer (maybe you're helping someone out with a slow internet connection) and you don't want to have to have to wait for the blockchain to download again – that's OK, you can copy it from one computer to another…
This example is for Windows and assumes that Litecoin-Qt has already been installed.
Step 1. Locate the blockchain folders
Go to the following folder:
C:\Users\[YOUR USERNAME]\AppData\Roaming\Litecoin
Step 2. Copy the folders that contain the blockchain
Copy the 'blocks' and the 'chainstate' folders to a portable device (USB stick, DVD, Hard-drive).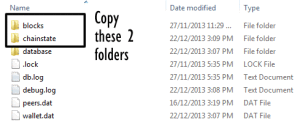 Step 3. Update the other computer
Connect the portable device to the computer you want to copy the blockchain to.
Locate the same folder and copy & paste the the 2 folders in.
That's it – you can now start Litecoin-Qt.