**UPDATE Jul 2017 – NOTE: BTC-e is no longer trading, it was shut down in July 2017.**
There are numerous cryptocurrency exchanges where you can purchase Litecoins, but this guide will focus on the BTC-e exchange, as at the time of writing it has the best LTC/USD currency pair rate and the highest LTC/USD trading volume.
Note: BTC-e are currently not accepting international money wire transfers from US bank accounts or US citizens, you can however use other payment methods, such as OKPay.
Step 1. Open a BTC-e account
Go to btc-e.com and click Sign Up.
You'll need to supply your email, a username and a password (choose a password you don't use anywhere else).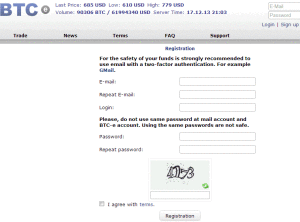 Step 2. Secure your account with two-factor authentication
Install and open the Google Authenticator application on your mobile device (phone, tablet).
Go to Finances > Security in BTC-e.
Click the 'Create a Key' button.

Take a screenshot and/or print the QR code, Private key and Base32 Private key (this will ensure you can use them again, should you need to install the Authenticator on a different device).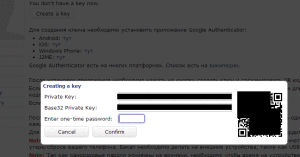 Using the Google Authenticator go to Add Entry > Scan Barcode and scan the QR code. When successful, you will see a number that changes every 30 seconds – this is your one-time password.
Enter the one-time password into BTC-e.
Tick all 3 boxes to apply the two-factor authentication to Login, Withdrawal and Security settings and save the settings.
Important, save the screenshot file offline (USB stick) and delete it from your computer.
Step 3. Send funds to your exchange account
From the Finances section, go to USD, Deposit.
Choose a payment method and follow the instructions carefully.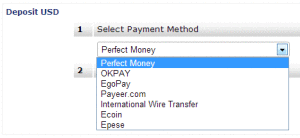 If you're going to send cash via 'International Wire Transfer, ensure your bank does not truncate any of the information. The 'Details of Payment' is your unique reference and

must be sent complete

.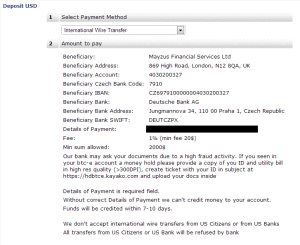 Step 4. Trade (buy some Litecoins)
Once your funds are showing in your account (can take up to 10 days depending on the deposit method), you can place  a buy order…
Step 5. Remove the money hold (optional)
To prevent fraud, BTC-e will normally place a withdraw hold on your account (prevents you from making a withdrawal within a certain time frame after the deposit). The amount of time the money hold is in place depends on the deposit method used. Follow the guide below to remove the money hold.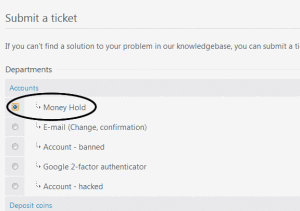 Complete the form and attach the following:

Photo ID; and
Utility bill
Note, they only accept scans, not photos. Make sure the name on the documents matches the bank account holder name.